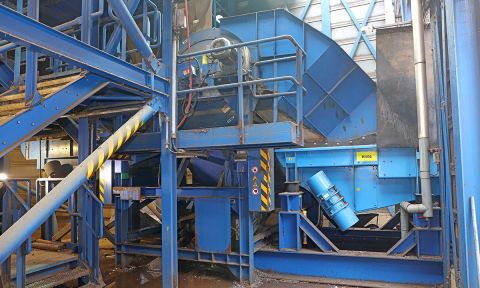 Vibrating feeders with unbalanced drives are widely used due to their simple basic construction in many industries and applications. They are used to transport various materials to be conveyed over shorter distances. The various applications range from bulk material discharge from bunkers and silos to foundry sands conveying to metal scrap removal from shredders or shears.
CYRUS Vibrating feeders with unbalance drive are designed project-specific to customer requirements, designed and integrated into your complete line. Due to the variety of applications, this type of vibrating feeder is available in countless varieties and with many options.
Below we have compiled some information about this base product of the vibrating feeder technology. A complete description of all options would go beyond the scope – we are pleased to present you the optimally tailored application through personal contact.
The machines operate with low wear, are characterized by gentle product handling, and are distinguished in particular by these characteristics:
Long service life, high operational reliability, even in tough applications
Minimum operating costs through low-maintenance operation
Wide range of applications through countless variations and options
Sophisticated technology, proven in thousands of applications
Particularly favourable value for money
CYRUS comes back on the experience of over 4,000 delivered vibrating feeders with unbalanced drives. Also for your needs, we will find the right solution. Challenge us!
Application
Typical areas of application for vibrating feeders with unbalance drive are:
Discharge of bulk material from bunkers and silos
Charging of crushers, mixing machines, furnaces, weighing machines, screening machines etc.
Conveying of foundry sand from cast/sand separation to sand preparation
Discharge of metal scrap under shredder and behind scrap shears
Feeding to magnetic drums for separating of metallic parts during material flow
Material transport in processing and sorting plants
The variety of applications is nearly unlimited – wherever bulk materials continuously or in batches quantities are to be conveyed over shorter distances, vibrating feeders with unbalance drive come into operation.
Material: fine-grained bulk material to piece goods
Capacity: usually up to 1.000 t/h, in rare cases also above
Design size: trough areas to approx. 3.000 mm width and 8.000 mm length
Arrangement: sloped, horizontal, slightly inclined
Of course, larger conveying distances can be overcome by connecting several vibrating feeders with unbalance drive. You need a larger conveying length and want to avoid transfer points? Then we recommend our vibrating feeders with slider-crank drive (so-called "resonance trough feeders"). These can be designed in individual lengths up to 50 m.
A selection of typical products, which often are transported be means of vibrating feeders with unbalance drive:
Foundry used sand
Casting parts
Stones
Metal scrap
Waste slag
Glass
Animal feed
Coffee beans
… and soon also your product?
Technology
The vibrating feeder can be designed depending on the application as a vibrating feeder in trough shape or e.g. as a closed vibrating tube. The feeder trough will be put into vibration by rotating unbalanced masses. The mode of vibration of the trough can be influenced within wide limits by design, arrangement, and quantity of drives.
Depending on tasks in CYRUS vibrating feeders with unbalance drive different types of drives are used:
Vibration motor
Circular drive
Cell drive
Straightening exciter
We are looking forward to explaining to you in personal contact more about the properties, application possibilities, and limitations of the different drive types.
CYRUS vibrating feeders are designed for continuous operation. The rugged welded- / screwed construction in vibration-resistant design is usually made of the material S235JR. Designs in special materials are available. For the transport of abrasive materials, troughs made of wear-resistant special steels are also used. Screwed or welded wear liners can also be provided, whereupon the wear protection material is matched to the material and the particular application.
Variants, options, special designs:
Influencing of conveying speed by frequency control of drives
Electronic gear for adjusting the vibrating angle during operation (details)
Exchangeable lining made of wear-resistant special steel
Heavy design, suitable for explosions in the shredder
Stop rails and safety catches
Vibration monitoring via acceleration sensor
Trough bottom heating to avoid caking
Bunker discharge chute
Needle slider
Hoods and covers
Dust seals
You miss a variant or option? Contact us; we have surely the right solution for your application.
Projects
From the large number of machines delivered, we have put together a few typical examples for you:
1) Sand Feeder Trough, foundry (picture 1)
| | |
| --- | --- |
| Type | CYRUS SRU 1.000 x 6.000 |
| Material | Foundry used sand |
| Conveying capacity | 150 t/h |
| Design size | Width 1.000 mm x length 6.000 mm |
| Characteristics | Lining made of wear-resistant special steel |
2) Bunker Discharge Trough, Mining (picture 2, 3)
Type
CYRUS SRU 1.200 x 3.200
Material
Iron ore, grain size 0-300 mm
Conveying capacity
750 t/h
Design size
Width 1.600 mm x length 3.500 mm
Characteristics
High conveying capacity
Lining made of wear-resistant special steel
Heavy design with wear protection
Slope 8°
Layer thickness limiter
Trough bottom heating for cryogenic application
Vibration motors with standstill heating
Bunker discharge chute with needle slider
Dust seals
3) Shredder Trough, Metal Recycling (picture 4)
Type
CYRUS SRU 2.200/2.600 x 8.000
Material
Metal scrap, shredded
Conveying capacity
300 t/h
Design size
Width 2.200 / 2.600 mm x length 8.000 mm
Characteristics
Conveying under the shredder
Especially heavy design
Machine weight approx. 21 t
Lining made of wear-resistant special steel