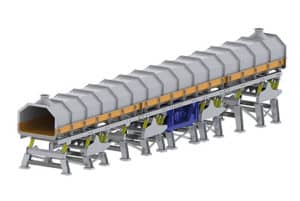 Casting coolers are designed to cool cast parts after being freed from sand from approx. 500 – 650 °C down to 100°C. This allows castings to be treated direct in the downstream shot- blasting plant. Material handling here is based on resonance trough conveyors. As a rule, these are built with vibration absorbers and screwed-on hoods that follow the vibration movement. In a counter-current process air generated by a ventilator is blown in. The channel-type design of the resonance trough assists the air flow. A powerful cold air stream is introduced into the flow channel in the opposite direction of the casting conveyance direction to cool down the cast parts. This cooling process can be assisted – depending on the application – by a temperature-controlled water spraying system.
Depending on the casting module (ratio between casting volume/casting surface) a dwell time for the casting range is determined and controlled via the conveyance speed of the cooler.
The advantages of casting coolers over conventional cooling via free convection without active air supply are:
Significantly more effective cooling for any given throughput and temperature difference
Shorter conveying distances
Minimisation of interfaces and therefore less cast part handling
Less production area required for cooling cast parts
Less hazard points by encapsulation
Compact plant
Technical Features
Length of individual machines up to 60 m
Width between 500 and 3,200 mm
Characteristics
Product-saving handling of cast parts by low-frequency low-friction conveyance
Low wear
Easy transport thanks to machine parts that can be disassembled
Short time for assembly and commissioning
Dynamic loads on the foundation are largely avoided by vibration absorbers
Rugged design
Temperature of goods to be conveyed up to 650°C
Application
After pouring in the moulding line mould faces are pushed onto the upstream chute separator at a determined cycle time where castings and sand are separated from each other. From the chute separator the castings are fed into the casting cooler where they are cooled off to below 100°C, or any other desired temperature, as required by the downstream process. Thanks to the continuous and product-saving handling the castings safely reach the downstream shot-blasting plant where any soiling is removed from their surface.