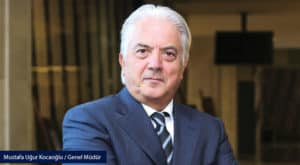 Trakya Döküm A. Ş., one of Europe's leading iron foundries consistently invests in state-of-the-art technology and manufacturing processes. This year as part of their new foundry project the melting capacity will be increased by 12 tons/hour with new medium-frequency induction furnaces.
To ensure trouble-free introduction of the charge materials into the new induction furnace Cyrus GmbH Schwingtechnik was commissioned to design a modern furnace charging system.The factors decisive in awarding the contract were the passion of the project engineers working at CYRUS together with short response times, adaptability to adapt to customer requirements and the company's technical vision.
The backbone of the new furnace charging system, which will be incorporated into the existing infrastructure are two rail-bound furnace chargers The chargers are designed for a volume of 12m³ each and the aggregates bunker for a volume of 1m3. The vibratory trough conveyors are key components of these furnace chargers and are driven by a pair of unbalance vibratory motors.
The risks associated with new machine technology require higher safety requirements to the plant and components and particularly applies to a foundry environment. This is why the new furnace charging system includes complementary protective measures including footswitches and pull-wire emergency stop switches on both sides of the furnace chargers in order to be able to immediately stop the charging system in case of an emergency.
Attention was also paid to reducing sound and dust emissions. The special design of the docking hood guarantees almost complete capture of furnace exhaust gases.
Good sound insulation in the area of the vibratory trough conveyor and charging bunker is also achieved by the special sandwich trough design with sound- absorbing rubber material. Furthermore, the bunker and vibratory trough are especially protected against abrasion and impact wear and thanks to the plug-type control pendant operators can control the charging operations from the left or right side of each charger or alternatively, from the control Panel.
After awarding the contract Mr. Mustafa Ugur Kocaoglu, General Manager at Trakya Döküm said: "I look back on many years of experience in the casting Industry and found that Cyrus enjoys a market-leading reputation that reaches far beyond German borders and this impression was confirmed by reference visits to see other furnace charging installations where we saw ideas that we could capitalise on for our own business.